by Corrinn McCauley

Découvrir le fin de siècle, la Belle Époque, et la joie de vivre à le musée d'art de Crocker.


Discover the turn of the century, the beautiful era, and the joy of living at the Crocker Art Museum.

​

La Belle Époque- the beautiful era- was a time in European history, beginning in 1871. This time of art and innovation was put to death at the start of World War I. It is no wonder these years surrounding the turn of the century in France are so often romanticized. They were filled with a decadence and a hunger for life. The people were modern enough to be innovative and still naïve to the treacheries World War I would soon bring. There was a defiant set of avant-garde artists determined to shake off the limiting codes of the academy's standards; they chose to depict the varied scenes of Parisian life- its cabarets and café concerts, its brothels and street scenes. These pioneers captured the social set and domestic life with a mixture of affection and criticism.

---

Sacramento's Crocker Art Museum is hosting a traveling exhibit, "Toulouse-Lautrec and La Vie Moderne: Paris 1880–1910", featuring art, films, and artifacts from this vibrant time in history. The collection boasts an impressive number of programs and advertisements from "Le Chat Noir" the first known cabaret which flourished in Paris' infamously artistic Montmartre. These programs are famous for the alluring and charming black cat who was the symbol of the club. The museum also has a display of original zinc shadow puppet silhouettes, whose size and detail is truly remarkable, accompanied by a fascinating collection of water colors, drawings, and paintings from this era.

The Crocker also has setup a room designed after a 19th century cabaret complete with seating and a stage. On the stage there is a screen playing some of the first films ever made. Modern movie-goers owe their cinematic experience to Georges Méliès. When the video camera was first invented, it was assumed that once the novelty that the pictures moved wore away people would quickly tire of the video camera. As a result, people only filmed ordinary scenes from daily life. These were called "moving pictures" and later "movies". But Georges Méliès, a magician, saw the potential of the video camera to film stories, the greatest illusion a magician could want. Museum goers can see some of Georges Méliès films playing on the stage of the faux cabaret. Behind the cabaret stage is a dressing room filled with props visitors can try on and transport themselves into the lives of cabaret performers. Adjacent to the stage is a shadow puppet theatre. Visitors are encouraged to perform their own shadow puppet productions.

La Belle Époque was a vibrant and artistically innovative time. It's spirit, art, and artifacts lives on and is beautifully captured in the "Toulouse-Lautrec and La Vie Moderne: Paris 1880–1910" exhibition. It's worth the drive downtown to be transported into the innovative, brazen world of yesteryear. Don't delay, the exhibit is only on display until April 26th.
Powered by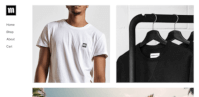 Create your own unique website with customizable templates.