by Kamea Pascua

The characters produced in Lady Bird are flawed right down to perfection. I adore the film. I'm annoyed at how relatable the mother-daughter relationship is. If anything, the movie is a massive slap in the face to reality, which—in a weird entirely not masochistic way— made me love it.
​

I will not deny that it is a "coming of age" story as advertised, but it's also more than that. It's the forming of a young woman (Lady Bird). Her shaping, her obliviousness to the world around her, and all that seems discredited in a simple statement such as "coming of age." The plot, as well as its characters, are real, raw, and beautifully morphed throughout. The film is stunning. But it doesn't stop there. It subtly mentions critical political aspects that were relevant at the time (2002), i.e., abortion, gay rights, and terrorism, which keeps the film more grounded.

---

The fact that it is set in Sacramento is not only why it makes it personal and close to home for me, but also the concept of Sacramento, and how it isn't a luxurious place like New York where many movies like this are usually set. The location of the filming is just as crucial to the meaning of the film, characters, and the plot.

Lady Bird's ambition for something bigger than Sacramento comes off as ungrateful to her mother, Marion, and the film revolves itself mainly around their points of conflict and interaction. She has this drive to be unique and to "live through something," as she puts in the opening minutes of the film. Her need for something extravagant to live through causes conflict with other main characters throughout the film.

Her ambition isn't the only thing that gets her in trouble. The way she contradicts herself by trying so brutally to fit in with the clique crowd creates a juxtaposition that's hard to ignore. How many times have we all contradicted ourselves by saying we aren't afraid of standing out but then going along with whatever is cool, especially in high school? I'm guilty of it, and I am sure you're too. This film tends to force the viewers to see the sides we are all embarrassed about, the ugly bits that make us annoyed with ourselves and the reality of it. I do not recommend watching this if you can't bear remembering embarrassing things you did to fit in, but if you can laugh at yourself like an anti-narcissistic person, this movie is for you.

Some critics may say that they wished the film delved more into the stories of the priest, adopted brother Miguel, Shelly, or even the depressed father. They argue that that is what was missing from the story. But I have to disagree with that vehemently. The mere fact that it only gives us minuscule insights into the lives of people surrounding her drives the POINT of the film further. The movie isn't supposed to be about everybody's lives, the dirty details on Jenna's home life doesn't matter, the daily life of the priest is insignificant to the story, the father's depression isn't emphasized on because Lady Bird is selfish, Marion's story of growing up with an abusive alcoholic mother isn't necessary. The point is that we are aware of all of these things as much as Lady Bird is, but we aren't given the details because that isn't reality. The main character IS Lady Bird and her story, not everyone and how they are interconnected. If you're looking for some sappy, light-hearted, cliché ridden film, you will have to look somewhere else because this film is stunningly raw and heart-wrenching, not in the way of hysterical tears, but in the sense of feeling a little different about the world afterward.


The family dynamic of the film is one of the most impressive pieces. The family is a central aspect that adds more realness to the film. The adopted brother, the girlfriend they took in since her family disowned her, and the father ridden with depression, it's the trifecta of troubled. The father just lost his job, and the mother is working at a psych hospital, the "typical" roles of the household reversed. The mother brings home the money, and the father is blooming with compassion, this creates two different relationships that the film portrays. Thus, adding to the effortlessly raw family dynamic.

The impeccable acting of not only Lady Bird but also her mother Marion, Julie, and the priest (although he had a small part) was astonishing. Lady Bird perfectly replicated teenage angst and obliviousness to everything surrounding her that didn't affect her. There was a scene in the film where Marion was trying to write Lady Bird a letter after one of their several fights throughout the movie, and she keeps crumpling up the papers out of anger. But we don't learn until later that it wasn't out of anger but fear, a fear that Lady Bird would judge her on her writing capabilities. This drives home what we learned about Marion having a troubled home life, and the opportunities she was deprived of, when we see that she has driven herself to a mental breakdown at the expense of Lady Bird's future.

The Priest at Lady Bird's high school was one of the most heart-wrenching side characters I have seen. Even though he wasn't given a lot of screen time, the pain written all over his face whenever he was in view left a certain unsettledness that I don't think any viewer could shake. He made the film feel more like a story than a movie.

Then there is Julie; I love Julie. She is portrayed as the typical fat friend in the most real and non-sugar-coated way. There is none of that bullshit "you aren't fat Julie." In fact, the one time Julie does remark about her weight, Lady Bird simply replies, "me too." Julie is academically inclined and clings to a particular math teacher that sees "talent" in her (spoiler: she has a crush on him). She is intelligent, kind, and strong but still has that air of immaturity and innocence that makes her character grounded. At the end, we have Julie crying on the couch and saying things like "some people just aren't built happy."

The film is about suffering, but not just on the traumatic level. There are all kinds of pain, "different things can be sad, it's not all war" as Lady Bird put it. From first loves to leaving home for college, the film is overflowing with events that can easily tear at your heartstrings in the subtlest way. You won't know until the movie is over that it brought you back to something you didn't realize you'd lost, or maybe helped you feel a little less alone.
Powered by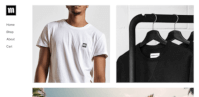 Create your own unique website with customizable templates.