by Michaela Kwoka-Coleman

Alright college, you win; I miss being a kid. Everything was so much easier when you were younger--school, friends, no job, no stress. Hell, even the opposite sex was easier to figure out. Remember in kindergarten when your friend would ask you if you "liked him" or "liked him-liked him"? Then, immediately after this question was asked, your friends would go have a meeting with his friends to deliver the verdict. It always ended up the same: I like you, you like me, and now we're boyfriend and girlfriend. No wonder girls usually push for a relationship; it's literally how we grew up. Sorry guys, the "all girls are insane" excuse isn't actually valid; we're not crazy, just creatures of habit. Anyways, back to young love--that was the best, especially because the next day when you saw your "boyfriend" talking to another girl by the monkey bars, you knew it was over but didn't really care. Jealousy? Even at my above-average kindergarten reading level I wasn't familiar with that word.
Powered by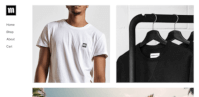 Create your own unique website with customizable templates.