by Brandon Karrer

Because we are approaching the end of the semester, one can only imagine how much there is to accomplish before summer is here. Final exams always seem to take a toll on stress, which can actually cause you harm in the process of taking your final exams. Everyone needs some sort of break to flee from all of the worries that arise within these last few weeks. One way you can submerge yourself into a completely different world is to see the theatrical production of Meredith Willson's, "The Music Man" at The Harris Center.

by Viki Papadakis

We've all been there. We see someone playing a game on their phone and, intrigued, watch them play for a few seconds. After realizing we don't understand it, we brush the game off as complicated--stupid even. Soon thereafter, though, we see everyone playing this game. As people hustle between classes, we see them focused on their phones, swiping the phone screen vigorously and cussing. We exactly know what they're doing.
Powered by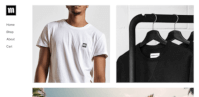 Create your own unique website with customizable templates.